Lofton's work has a characteristic that is unique in our dramatic twenty-first century.  Color, shape, composition and theme create a harmonious unity which invites us to smile and to understand a world saved by humor.
Through music, the human landscape, or the crisis of values of today's world, he finds a playful meaning which he wraps in his creative ability, to produce an almost naive fantasy.  Despite the seemingly simplistic result, one senses a profound knowledge of volumetric deformation; a rich palette, which does not shy from the boldest contrasts, where a single element is enough to restore balance to what would otherwise be chaotic.  This is thanks to his natural talent and solid academic foundation, acquired in the Art Students League (1948-1954) and the School of Visual Arts (1971-1972), both of New York.
Lofton's work is purposeful and consists primarily of acrylic on canvas, enhanced by a collage of his own creation, which he achieves by painting certain elements on another canvas which he then cuts and pastes on the already-painted picture, or by creating thin layers of acrylic paint, to which he gives the desired shape and then attaches to the canvas.  His rich palette employs both flat and bright colors.  The lines are simple and blatantly sensual.
This Retrospective comprises works carried out from 1956 to 2006.  Fifty years of incessant seeking and laboring.  His work begins with the academic stage, where the realism  of his painting acquires a perfection that is close to hyperrealism, from the mid-50s to the late 1970s, passing through ten years of abstract expressionism reflecting the abstract trends in the arts of  New York in that era.  Later, he produces paintings of protest, among which the strongest and most powerful is one related to the assassination of Martin Luther King, Jr.  His protest is not obvious; however, his work is rather an intellectual meditation which does not sacrifice artistry in favor of discourse.   Music occupies an important part in his production and beginning in the 1990s, when he settled in Mexico, his sharp insight into Mexican characters and circumstances leads him to produce a collection of magnificent color and amiable interpretation.
Sometimes life encourages us to return to a path that had apparently already run its course.  It is thus that in 2004, Lofton returns to the themes which identified him as what is often referred to as a "committed artist."  With the sharp eye of a young man, but with the security of an adult man who does not fear the judgment that his work may cause, he becomes a critic of his time. War, the desire for power, and the cult of money are the themes which run through his current artistic endeavors.
To enjoy his work is to immerse yourself in the history and thought of a great artist.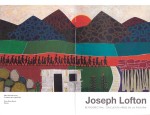 View exhibit brochure in Spanish (2 MB)